After some hours of rest (I and Hanna took a swim, the rest were afraid of the Hippos and Crocs…) we were ready to board the Mokoros. The sun was shining from a blue sky…
…as the four Mokoros left our little island.
We found one of the small frogs that had given us such a concert the evening before. 
It was a beautiful, slow and quiet ride in a mirror-like Delta…
…and I think we all just relaxed and enjoyed…
…the horizon and the sky reflected in the water…

…and the Water Lillys that are everywhere.
However, the sun did approach the horizon so…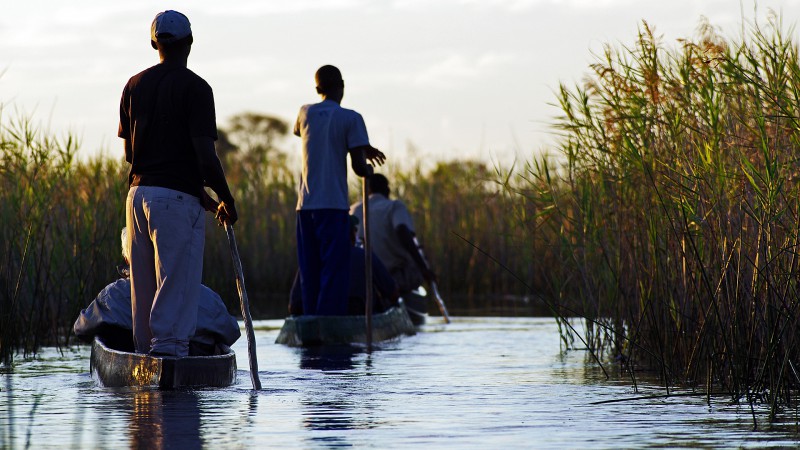 …it was time to head for a new island.
What are they looking at!?
Of course there was the sunset…
…but also a full moon rising and…
…this magnificent cloud in low sunlight.
We had come to see the sunset and it was specatualar…
…like African sunsets often are.
The full-moon rising was also quite spectacular but…

…it was quickly getting darker and it was time…
…to return to our little island…
…and our base-camp.
The horizon still had some "Lion King" effects to offer but we now turned our attention…
…to food!
After dinner we had a discussion on how to find south. This is the way: Find the Southern Cross and the Pointers. Draw one line between the Pointers and another through the top and bottom stars of the Southern Cross. South is where the two lines cross!

It was our last night on the island and after dinner we were invited to…
… a song and dance performance!
As the evening turned into night, songs were sung and… 
…stories were told. It was a tired but happy gang that finally hit the beds…