It was our last evning at the camp and suddenly Gert turned up. After driving the car all the way back from the Skeleton Coast he had a shower and was now ready for the next activity! With another appointment later we had better hurry up.
Gert showed us a few interesting places near the camp. It is most probably remains of earlier settlements… 
…maybe several hundred years ago. Gert believes that Amspoort once had a fountain which made it possible for quite a large group of people to live here, maybe on an almost permanent basis. These "rock circles" can have been support for some kind of huts…
…and we saw potsherd to support the idea that people were living here. I believe archaeological research is planned for this area.
We wanted to see the view from one of the hills surrounding the plain area where the camp is and we started climbing…
…following the Oryx tracks…
…until we reached the top. Beautiful!
Looking south we saw the camp. Hi Hanna, do you see us?
Looking north-west we saw that wide river bed…
…and looking north  we saw the seemingly endless landscape of mountains and sand valleys.
That river bed is fascinating! Let's go down and have a closer look.
Coming down we met these. Lots of scary faces…
…and next to them this "Elephant path". In front of the camp is a water hole and to reach it the Elephants comes up from the river bed and follows this path.
It is wise to stay a few metres from the edge…
…you still get a good view of that impressive wall that almost looks like it was man-made. Sun was low and it was time to start the walk back to camp, because we…
…were promised a closer look at this! "Research vehicle – do not follow"…

…because to the right is Philip Stander, the man behind the "Desert Lion Conservation Project". Stander started this Project in 1998 – that is now 17 years of devoted work. This car is his third car and tailor-made to fit his needs. Behind him you see huge loud-speakers. With those and recorded sounds he is able to call for lions but also to have them move away from an area! In the picture above you also see Emsie Verwey. More about her in my next post!
This is the office of a devoted researcher! Please click on the link above. Stander is producing a fantastic web-site, with very interesting facts and fantastic photos and the web-site is maintained daily from this car!
Time for a drink and…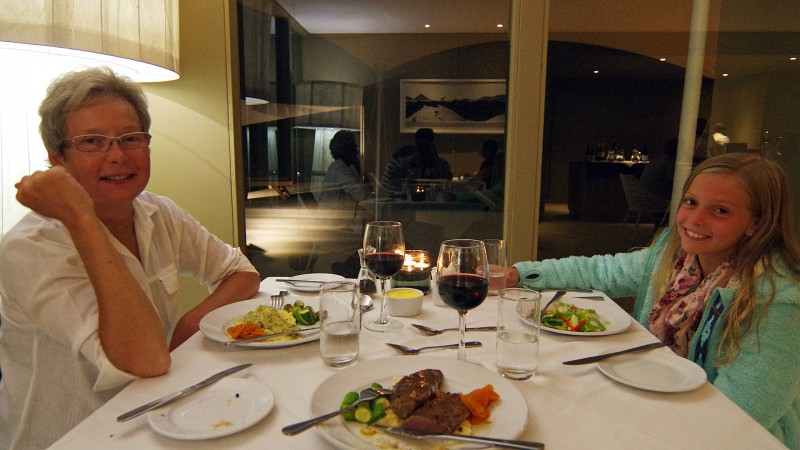 …another great dinner at the camp with a special wine! It was our last evening here and we were well entertained!
Good night, tomorrow is another early morning…