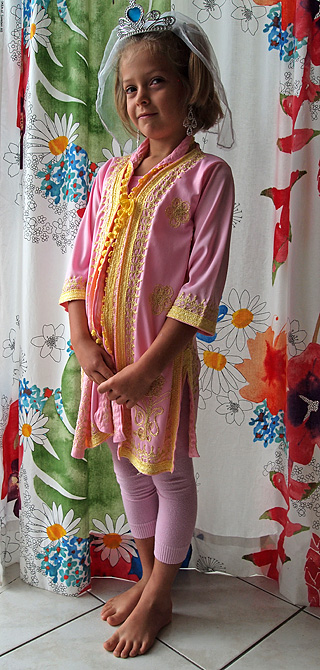 Idag var sista skoldagen för terminen. Det var "Dress Up Day" och Hanna gick till skolan som prinsessa…
För en dryg vecka sedan fick alla föräldrar följa med till skolan och följa en helt vanlig skoldag.
När vi kom till skolan den dagen var det rast.
Här sitter Hanna omgiven av klasskamrater.
Efter en liten stund var rasten slut…
Precis innanför dörren sitter dessa bilder. "Star of the week" (Och, ja det är Hanna längst till höger!). Inget man är van vid hemifrån precis men här är man väldigt mån om att uppmuntra och motivera och man lyfter ständigt fram de duktigaste barnen som föredömen. Känns väldigt osvenskt…
Hanna går i klass 2M där "M" står för Musati som är Hannas lärare.
Hemma i Sverige gick Hanna på Montessoriskola med mycket individuellt arbete. Här är det istället läraren som leder hela klassen nästan hela tiden.
Hanna verkar inte ha något problem med förändringen. Här arbetar hon flitigt vid sidan om bänkkamraten Ajhe.
Hanna har börjat läsa Afrikaans och vi fick följa en lektion.
På skolan lägger man stor vikt vid att barnen ska skriva läsbart och prydligt.
Väggarna och vägghyllorna är fulla med material. Här syns Hannas projektarbete om "Swedish Summer" tillsammans med andra barns arbeten om vinter. Förvånansvärt många barn hade valt vinter med snöbilder trots att här i princip aldrig snöar.
Barnen sitter prydligt i sina bänkar men deltar samtidigt aktivt och uppmärksamt.
Hanna trivs riktigt bra i sin skola. Det syns också i hennes "school report" för terminen där rektorn kommenterat:
"A fantastic report Hanna! Well done!"
(Även Saga fick en fin rapport idag med betyg väl över medel i klassen. Rektorn skrev; "Well done! Continue like this Saga.")