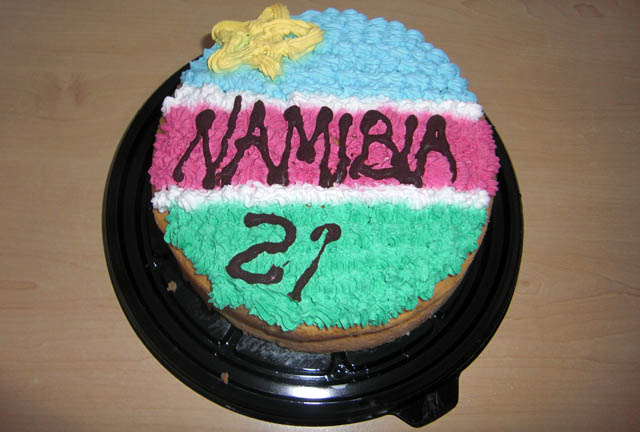 Den 21 mars firade Namibia "Independence Day". Det är 21 år sedan Namibia blev självständigt. Det innebar att vi hade en långhelg och utan planering bestämde jag och Johan att vi ville se "Sossus Vlei", dvs Namibias berömda sanddyner.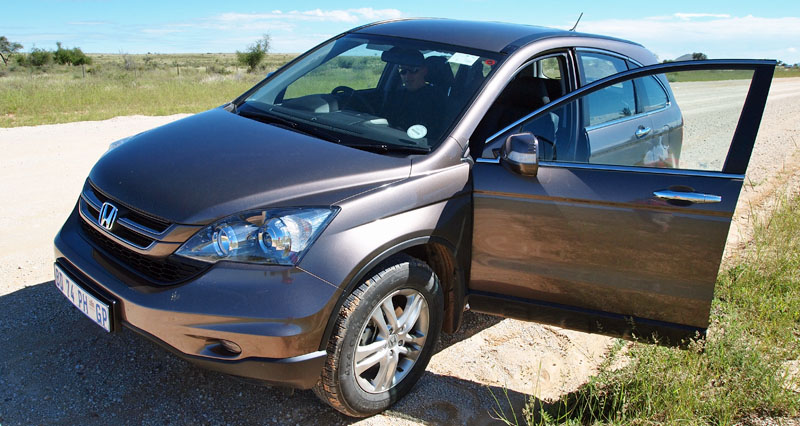 Vi gjorde ett försök att boka rum och vi hyrde en bil och på morgonen den 20 mars gav vi oss av.
Till att börja med rullade vi söderut på fina B1 i vackert väder och ett underbart landskap att blicka ut över. Efter knappt nio mil svängde vi av vid Rehoboth för att istället följa C24. Kartsymbolerna visade att detta var en "minor gravel road" vilket var högsta tillgängliga vägstandard efter den asfaltväg vi lämnade.
Och vilken grusväg! Bred, jämn och fin och med lagom små upplevelser…
Efter ytterligare åtta mil började vägen ändra karaktär lite…
Det har ju regnat en hel del i Namibia på sistone. Dessutom närmade vi oss något som på kartan kallades Remhoogte Pass. På nätet kan man läsa:
"The Remhoogte is accessible even with a small sedan cars. The shortest route via Remhoogte to Sesriem is to take main road B1 south from Windhoek to Rehoboth, turn … just after Rehoboth, and finally join road 36 to Sesriem."
Enligt tillgänglig information på kartor och på nätet var detta alltså en väg som man utan vidare kunde välja med vanlig personbil. Vi hade ingen 4-hjulsdriven bil men blev mer och mer glada åt den relativt höga markfrigången och de lite större hjulen på vår hyrda Honda CRV.
Men vägen bjöd även på annan underhållning.
Tidvis rullade vi fram ganska sakta…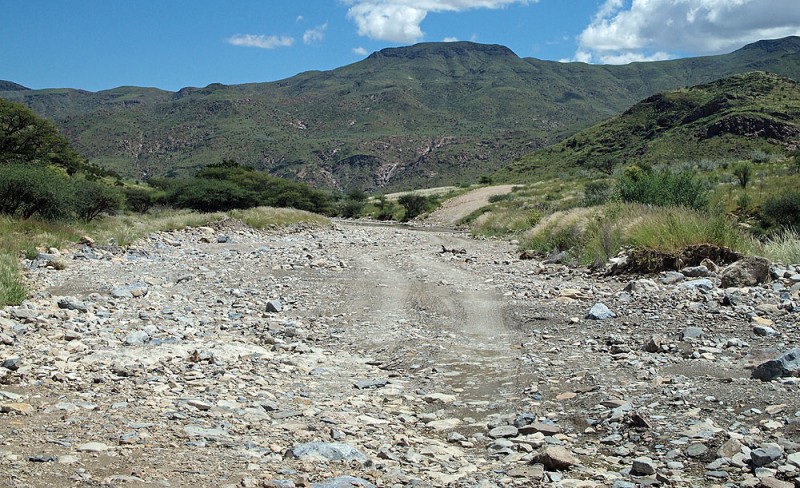 Men efter drygt fyra timmar hade vi avverkat 25 mil och var igenom passet. Puh!
Nu kunde vi ana de röda sanddyner som var målet för resan.
Så här ser en fågelholk ut när fåglarna själva får bestämma. Erik kanske kan berätta mer?
Under hela resan såg vi knappt ett enda hus och mycket få människor, men ett otroligt vackert, till synes obebott landskap.


Framme vid resans mål efter 5 och en halv timme och 32 mil. Mycket trevlig personal ordnade ett rum till bra pris trots att vårt försök att boka via nätet misslyckats. Och bättre har jag aldrig investerat 15 kr än jag gjorde då jag beställde in denna halvliter…
Mer om resan senare…