The International Women's Association of Namibia (IWAN) is yearly arranging a "progressive dinner" where a bus is taking some 30 people to  first "appetizers", then "dinner" and finally "dessert". This year we volunteered to do "appetizers".
Recently back from a visit to Sweden we had some Swedish specialties and decided that this evening was to start in Sweden. Saga and Ottilie were put to work…
…and all was ready in time for the arrival of the guests. So welcome to Sweden!
Inlagd sill – Cured /pickled herring
Gravad lax – Cured/marinated salmon
Knäckebröd – Crisp/hard bread
Torkat renkött – Dried reindeer meat (or Swedish Biltong…)
And also Kalles kaviar (fish roe spread), köttbullar (Swedish meatballs) and Västerbotten-ostpaj (Västerbotten cheese pie).
And last, but not least a snaps-table with 16 different varieties of aquavit.
IT'S HERE AGAIN (Mel: Auld Lang Syne)
It's here again, our IWAN feast.
The one that's best of all!
Let's have a snaps or two, at least.
Now lift your glass, say SKÅL!
It turned out well, our guests were brave and tried everything and after an hour most of it was gone. It was time to move on to our next stop…
…which was Ireland! Sharon and Paul gave us a wonderful casserole of game accompanied by the best potatoes I have ever got in Namibia. Say what you want about the Irish but they sure know their way with potatoes (apart from being almost unbelievably nice)…
We had a good time…

…in Paul and Sharons beautiful house in Ludwigsdorf, but even good times come to an end…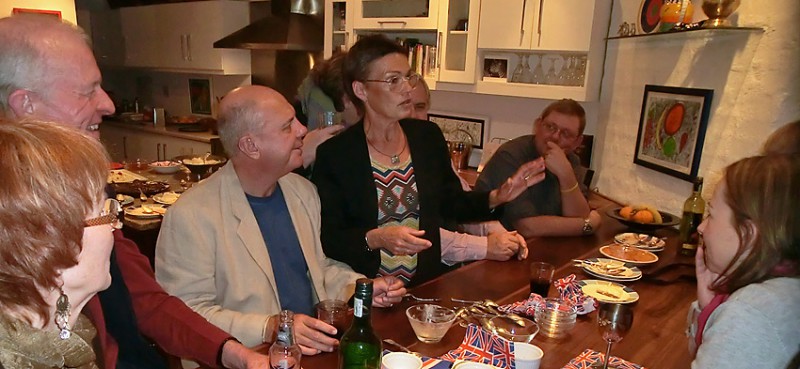 …so the bus took us to the next and last stop. I don´t know how Candia and Richard found out what is my favorite desserts but somehow they did. I enjoyed cheesecake, ice-cream, raspberries and chocolate cake. By now everyone was of course very happy…
…there was some singing, a lot of laughs but also time to enjoy a beautifully decorated and warmly welcoming house. Thanks Candia and Richard for a lovely end to a fantastic evening.
And thanks ta all the "Iwanners" for being such nice guests and good companions this special evening.