Botswana and the Okavango Delta had been on our wish list for a long time and this year we managed to persuade two other "cars" to join us. "Cars" are important because with at least three cars driving together you can get into a situation when one car breaks down or gets stuck and you will still be able to get home…
Everything was managed in the last minute. We had our passports with new recidence visas handed out five minutes to five Friday afternoon! And Saturday 12 April was a busy day with a tire repair as part of last-minute preparations. Finally ready to go just before lunch…
…making a stop after 200 km in Gobabis for fuel…
…and a coffee break. To the right Kathleen and Shameem – happy travel companions!
As we came into Botswana we realised we started to late. Driving east means sun goes down earlier and Botswana with all its animals on the road is not a country for night driving…
…but it got darker and it was raining. Raining!? We were going canoeing the next day!
Finally we arrived at Thakadu Camp, by turning right shortly before Ghanzi and continuing on a small and dark dirt track for a few kilometres. We were welcomed with surprisingly good food, some of it with an Indian touch. 
I had e perfect Eland filé and we all enjoyed the evening and the luxury of not setting camp but rather…
…sneaking inte ready-made beds in these Meru tents with en suite bathrooms. Affordable luxury after a long day on the road. As we woke up it was still raining and there was some pessimism in the team. Canoeing in rain!?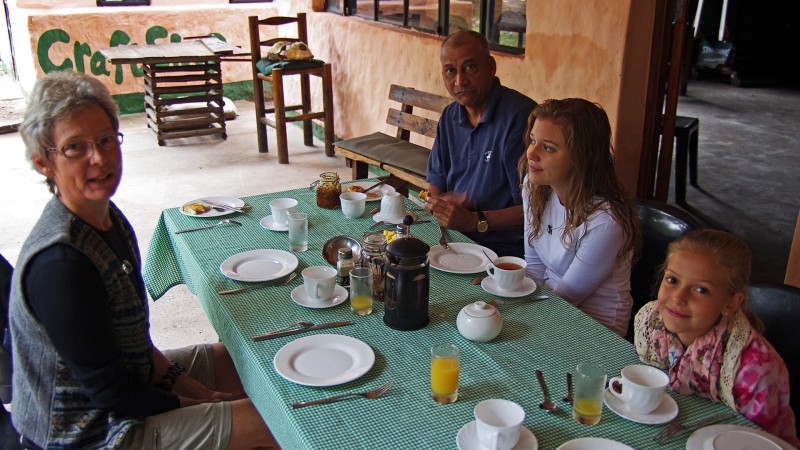 Breakfast cheered us up a bit and we hit the road for the next 300 km to Maun.
In Maun Peter joined us after a short while, we had a good lunch and did the last preparations for the next part. Our meeting point was "Backpackers" which is a good starting point for any adventure into the Okavango Delta. They will help you arrange scenic flights, boat trips etc. and they also have accommodation if you want to stay a night here. It is situated 10 km east of Maun. As you pass the new bridge over the Thamalakane River you turn right and follow the road along the river until you pass the Old Bridge and then you arrive at Backpackers. Riverview included almost everywhere!
Repacked in as small as possible backpacks we climbed onto a car for a short drive…
…to the beach on the other side of the bridge. Here was a boat waiting for us…
…and although the skies were grey there was no rain, so smile and get ready for the adventure.