After a night under the stars we woke up to a beautiful day and when breakfast was finished we started a walk along the rim towards the south.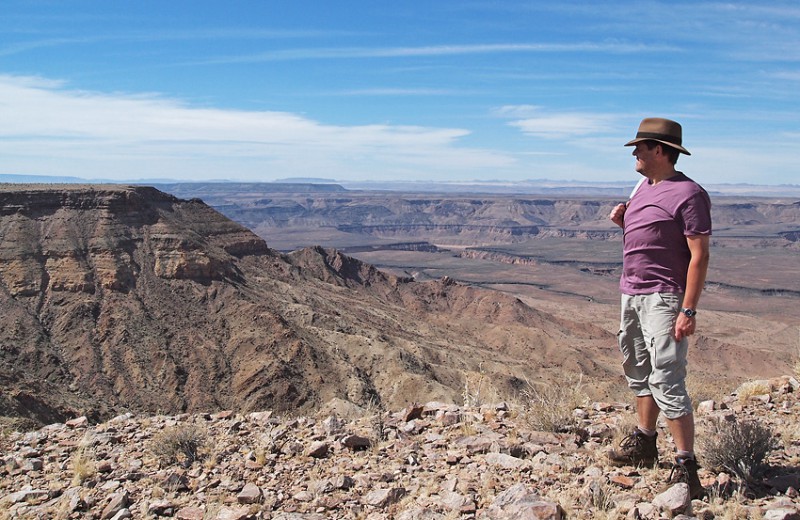 Anders…
Saga…
Hanna…
and Marie…
The Quiver tree (Aloe dichotoma) is also known as the Kokerboom (kogerträd) because the bushmen used its branches to make a quiver for their arrows. These trees can become very old (more than 200 years) and they are numerous here.
It was a very nice walk. After lunch and some rest at the lodge we went on a car for a sun-downer drive.
As the sun gets lower the canyon changes its appearance. The Fish River Canyon began to be formed some 350 million years ago. Here you can see some of the oldest rock formations on our planet. The original rock formations here are 1 000 million years old!
At 800 million years ago hot magma forced its way up from the inside of the earth. During the next 150 million years erosion shaped an almost flat ground level that today can be seen as the top of the mountains (almost all mountains here have tops like "table mountains").
Some 350 million years ago a vast area started to subside thus forming a valley that then became a great river. This is today seen as the level where the lodge is built but also as higher parts of land in the canyon.
The girls preferred playing with the stone "lego"…

…while we admired the scenery. To the left is our guide for the evening. Ralf is the manager of the Fish River Lodge but he likes to take part in all the jobs at the lodge.
Later on a more "modest" river cut down through the softer rock forming todays meandering path of the Fish River.
The sun approached the horizon…
…so it was time for drinks and snacks….
…as we saw another one of these magnificent African sun-sets…
…and a multi-coloured sky to end this fantastic day!