One week ago we left Windhoek on the B1 heading south. In front of us was 680 km on the road. We planned a fuel- and meal-stop after 500 km in Keetmanshoop.
Keetmanshoop began as a center of the Christian mission in this part of Namibia. It has also for many years been a center for the important Karakul sheep farming. We arrived on a Sunday and found the city closed down. Finally we found a gas station with a "take away" shop. This is your last chance to get fuel for some time…
From Keetmanshoop we followed the B4, a beautiful road going to Lüderitz at the coast. Soon we passed over "Fish River". It starts at Hardap Dam near Mariental with a length of 650 km and ends up in the Oranje river on the border to South Africa.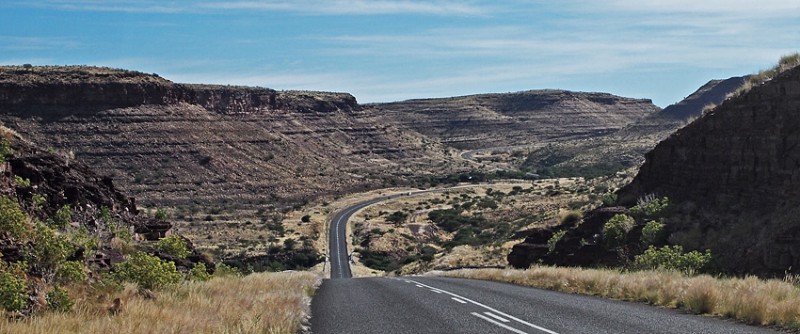 We followed the beautiful B4 for almost 80 km…
…and then turned left onto D463, a very good gravel road.
The D463 gets a bit rougher further south and if you drive it from the C13 in the south is is said to be a 4WD road. We did not experience any of that. After another 80 km we turned left into the final 20 km of gravel road to the lodge. This was a very nice and beautiful road and there is no problem driving this road with a normal sedan car.
Entering the lodge's main building was truly breathtaking. Big windows and glass doors…
…and a truly stunning view!
Fish River Lodge is literally sitting on the rim of the canyon.
It provides a very special atmosphere.
They call it "on the edge of eternity" and it affects people. Everyone seemed to keep their voices down. The surrounding nature takes such a big place here.
The houses are not big enough for four people. Hanna and Saga had the left house above and me and Marie the right one.
The canyon and the sky are present everywhere…
…and every house has this platform. For meditation, yoga or to take out your bed for a night under the stars. I spent two out of three nights here.
The views from the lodge are very special and they change during the day as the sun moves over the sky.
And yes, the food was nice too!