Last weekend we were on an amazing final adventure in Namibia. I have hundreds of photos and I really want to tell you all about it but it will take some time so for now I will just tease you…
Friday 27 February we were at Doro Nawas (close to Twyfelfontein) to board this Cessna 210…
..and fly north until suddenly we found this in the middle of a desert and mountains – the Wilderness Hoanib Skeleton Coast Camp, and if…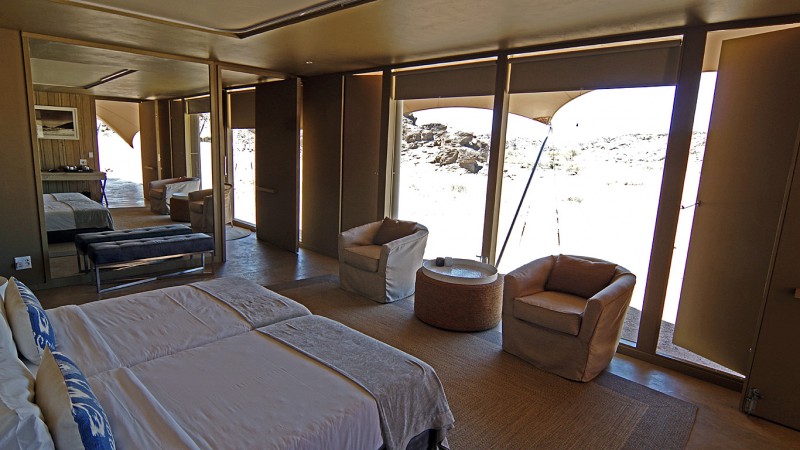 …you are spending three nights in the desert this is the way to do it!
We were on a drive the first evening, exploring the river bed with beautiful giraffe sightings…

…and enjoying this stunning sundowner!
Saturday driving north a bit. Saw this herd of 200 Springbok…

…and amazing sceneries!

Another drive into the river bed Saturcay evening. Here is Amspoort…
…and isn't this an amazing view? Springbok and an impressive edge of the river bed.
Sunday we left before sunrise heading for the coast. After an hour we met these desert-adapted Elephants!
A bit further on we saw this. A few weeks ago heavy rains in the Etosha area brought the Hoanib river in full flood for a few days. It was 20 years since this happened last. Most of the water ended up here and turned the desert into this wonderful green area. 
Further on Hanna could enjoy the sand dunes that stopped most of the river.
After about five hours we reached Skeleton Coast and had a wonderful time there.
Skeleton Coast for lunch and Hoanib Camp for dinner. We were not complaining!
Monday up early again to see the Hyena den!
If you are Hyena in your next life you may have a view like this from the den!

Goodbye Gert and all the other fantastic Wilderness people…
…it was time to return. What a fantastic final Namibian Adventure! I will be back to tell the full story!