At the end of our 45 min walk we came to the Maack Shelter.
We had to wait a short while. Only a small number of visitors are allowed at the paintings at one time. The "White  Lady" is one of the worlds most famous rock paintings and the reasons are both the painting itself and the story that goes with it.
The first to find the "White Lady" (in modern times) was Reinhard Maack. In 1917 he was the first European to conquer Königstein, the peak of Brandberg at a height of 2573 m above sea level. On his way down Maack made a detour to look for rock paintings and found these remarkably detailed and colourful paintings. Maack had seen many rock paintings before but nothing that could compare. The place is today called Maack Shelter.
In particular he was amazed by one painting, that he described as a "male dancer". You can see it on the picture above, the person with white legs.
After the Second World War a French abbé arrived. His name was Henri Breuil and he was a well-known expert on cave art in Europe. His knowledge in Namibian archaeology was very limited though and he made severe mistakes in his interpretations of the Namibian rock paintings.
He saw the colourful person in the middle of the Maack Shelter. From the persons posture and the "flower" (which is actually a fly whisker from an antelope) in the left hand he deemed it a woman. He thought it to be a picture of "Isis from Egypt". From the white colour he also concluded that the picture was done by early European visitors to Namibia. Another reason for this interpretation was that he thought that the paintings were much too advanced to have been done by primitive Namibians. His name for the person – the "White Lady" – has been there since then.
But the "White Lady" and the person to the right are both obvious men with penis decorations. They are performing a ritual. The streaks on the bodies are sweat running. They have special body decorations why they are believed to be some kind of medicine men. It is believed that the paintings are of individual men that actually lived here. They are not symbolizing any man but they are distinct individuals.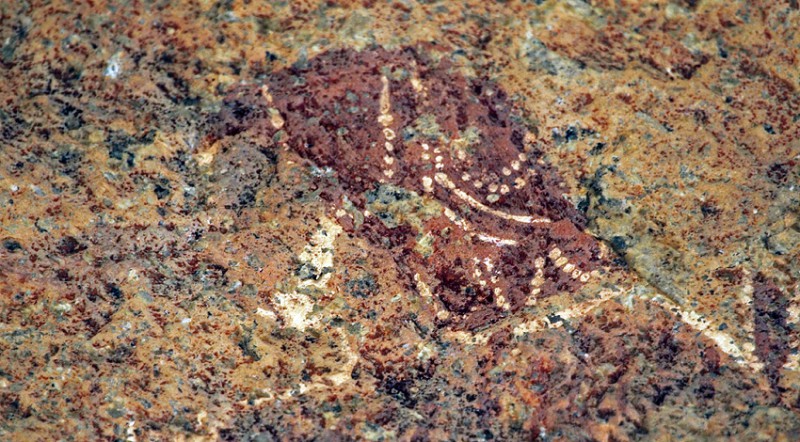 Abbé Breuil also missed the obvious fact that the paintings at Maack shelter resemble many other paintings found around Namibia and in South Africa. They are unusual in details and colour but in other ways also very typical for the Namibian rock paintings.
So the person dancing on the picture is a man and has become a very famous person even if he is called a she…