Everything was packed and it was time to leave our small island and our home for the last two nights. It was a wonderful day, sun shining…
…the water crystal clear, the Water Lillys beautiful and…
…the sky magnificent and doubling up in the water reflections.
It was a slow trip…
…and Hanna had another gift from Jerry as we returned to the Mokoro station.
We had all been going in glass-fibre Mokoros but now we had a chance to try the original wooden version. I tried (got just a little wet…) and…
…Saga had a go as…
…did Marie, taking long trips like she was borne on the river and…
…Peter also tried it, doing really well for a time, until…
…it was time to walk back!
We had a long nice rest, talking with our new friends until…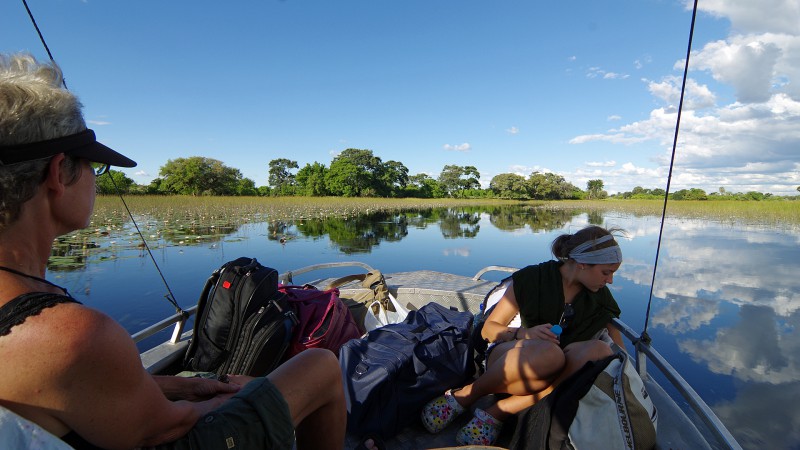 …it was time for the last part on motor-boat back to Maun. This part is great for bird-watching and we saw…
…what I think is the Grey Heron…
…here spreading its beautiful wings.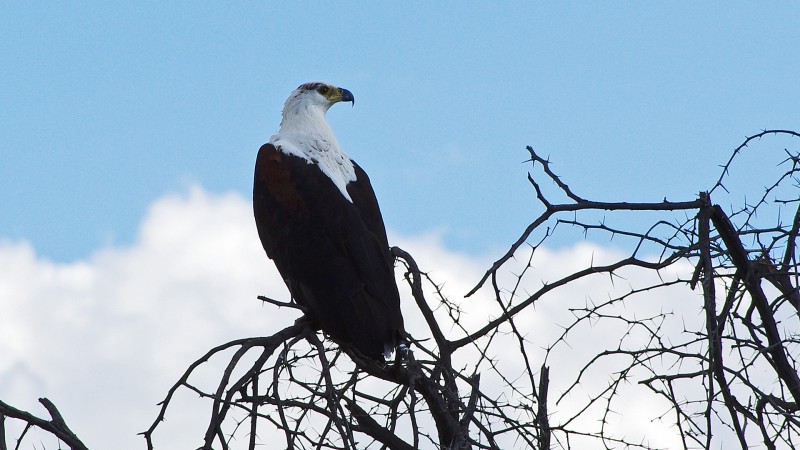 The African Fish Eagle. The female bird is larger than the male and I think it is a female above, because of the pattern on the back.
This should be the Pied Kingfisher.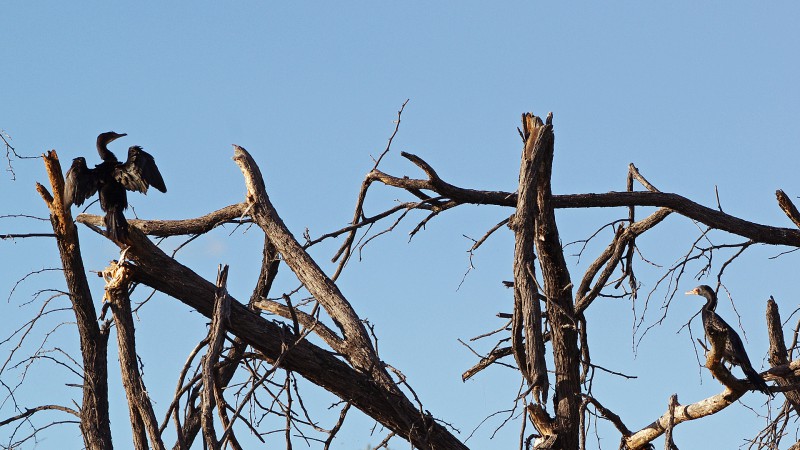 Reed cormorants…
…were seen frequently, but…
…this one is more of a rare bird. I'm not sure but believe it is a Water Thick-Knee, also called Dikkop. It is normally seen and heard night-time and it was very well camouflaged so I think we were lucky to see it.
We were almost two hours in the boat and a bit tired as we arrived to…
…Old Bridge Backpackers Lodge where the drink tasted excellent…
…as did the dinner. We were looking back at three fantastic days in the Okavango Delta. I recommend anyone to do the same if you get the opportunity!