Since we were staying two nights in Purros we had a day off. We used it for a drive along…
…the Hoarusib River, hoping to find the elephants that are living in this area. These elephants are unique in that they have adapted to a life in the desert.
But here are other animals here as well. This Ostrich met us at high speed and kept to the right although Namibia is driving on the left-hand side… Beautiful!
We also met this man. Very far from anything or anyone. He asked for water and had a a liter of water in a few seconds. How do people survive here?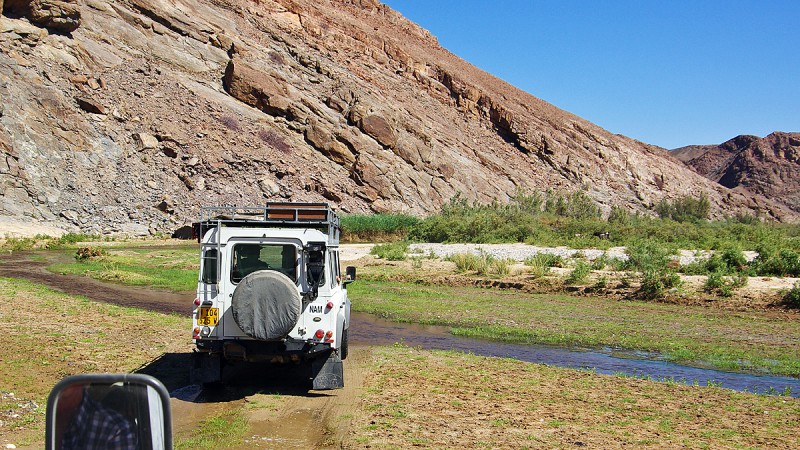 We kept on driving. There was a little water in the river so we had good hopes of finding the elephants here. Although the man told us ha had seen none today…
Instead we saw these Blacksmith Plovers…
…and this Hammerhead Stork or Hamerkop. The strange shape of its head is of course the reason behind the name of this bird. You will find this bird in wetlands from Africa to Arabia and yes, here was water, but only very little and around it is only dry desert.
Very well adapted to the desert is the Oryx or Gemsbok. It can survive without water for long periods.
It was a beautiful drive, slowly meandering along the river…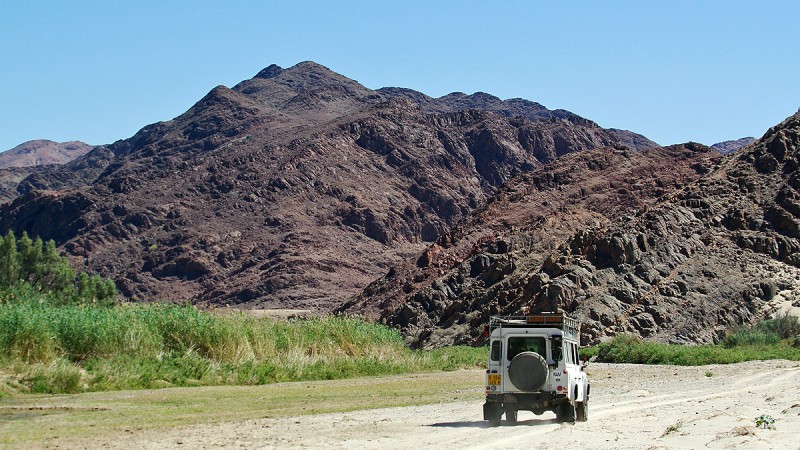 …between the mountains.
They may have only the horns in common but still seemed to get a long well. Here we left the Hoarusib River to the left…

…to return to the camp via a track up the mountains. Since this was only a day excursion..
…and to save fuel for the thirsty petrol cars we had only the two Land Rover diesels.
A break in the shadow below a tree…
…with a drink and some chatting.
It is such an amazing landscape and it is such a privilege being here.
This Oryx seemed so well aware of how good looking he/she was. "Come on, I have the time. Take your photos…"
As we again approached the area around Purros we had this magnificent view over the plain with several "dust devils" and as we later approached another river bed we found…
…a group of seven or eight giraffes. They also look a bit misplaced in the desert but obviously the trees, supported by the water below the river beds, are enough to keep them alive.
In this endless landscape even the majestic giraffe looks smaller than ususal.

Crossing the river-bed to return to the camp we saw these remains. A few years ago there was actually water in the river bed but someone thought he could safely cross it in his big overlander. He could not and had to leave his vehicle here…
It was a very nice drive but we still had not seen anything but spoor of those elusive desert adapted elephants. Lets go back to the camp and make up new plans…