I arrived in Namibia 2 March 2011. Here is my first post (on Swedish) from work. More than four years later…
Yesterday I was very happy when some of my Namibian colleagues took me out for "brunch" at MoJoe's (an old favourite!). Thanks Erik, Christine and Mikhail! I will miss you…
Later the same day my ICAO colleagues arranged a farewell dinner at Stellenbosch Wine Bar (another favourite!)…
Our Project Coordinator Louise with Peter. Both good friends and professionals who have been very important for my work here. Peter has also been a good travel companion in Namibia and outside.
Maimuna, the ICAO expert who has been in Namibia longer than anyone. Always willing to go the extra mile for a colleague!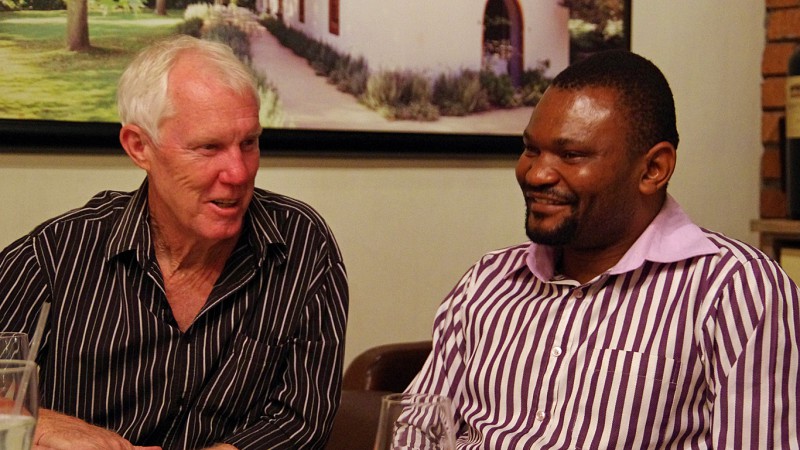 To the left is Rob who has been here for a few months but is already a very good friend and a respected professional. Dan to the right started working for ICAO the same day we had our dinner! Thanks for coming and good luck Dan!
Christoph, far left, is one of the ICAO lawyers. Next is Tom, our ICAO business expert doing a very important work preparing for the Namibian Civil Aviation Authority and last but not least comes our persevering and much loved Director. What would Namibia do without her?
Rob and hs lovely wife Ann stayed until late. Thanks for that!
Not everyone ended up on a photo but my gratitude extends to all who came. Thanks for a fantastic evening with many nice words. I have appreciated my time with you and this evening was a great finale.
Today all the last bits were sorted out, the last items from the office packed and I participated in my last meeting. Goodbye DCA!