In October last year we visited REST – Rare & Endangered Species Trust, located on a small farm 47 km south of Otjiwarongo. REST is a non- profit organization founded in September of 2000.  The founder and current director, Maria Diekmann originally became interested in the Cape Griffon while living on the family farm situated near the Waterberg Plateau cliffs.  This is where the last remaining Cape Griffon in Namibia roost.
Only 60 years ago there were two thousand of these vultures in Namibia. Today Cape Griffon Vulture is Namibia's most endangered animal and only about twenty are left. We saw three during our visit;
The Cape Griffon Vulture is one of the largest vultures and it can fly very high. Once a jet aircraft hit a Cape Griffon Vulture at an altitude of 11,000 metres!
Above is a Lappet-faced Vulture.
Later the interest in the Cape Griffon Vulture expanded to the protection and  research of the "Forgotton Five" which is now "Forgotton Five plus One!". These are now Cape Griffon Vulture, Dwarf Python (related to the much larger African Python but only about a metre long), African Wild/Painted Dog (the second most endangered carnivore in the world), Damara Dik Dik (the smallest antelope in Namibia), Spotted Rubber Frog (only 5 (!) have ever been recorded in Namibia) and…
Cape/Ground Pangolin.
This little creature is very elusive.
Pangolin is a nocturnal animal that is not often seen by people. People kill them because they believe the scales have special powers. Want to know more about the Pangolin? Read this lovely article!
We also saw other animals during our short visit at REST:
This owl…
…I believe is a Spotted Eagle-owl.
Is this a Bateleur?
An adorable Wild Cat kitten.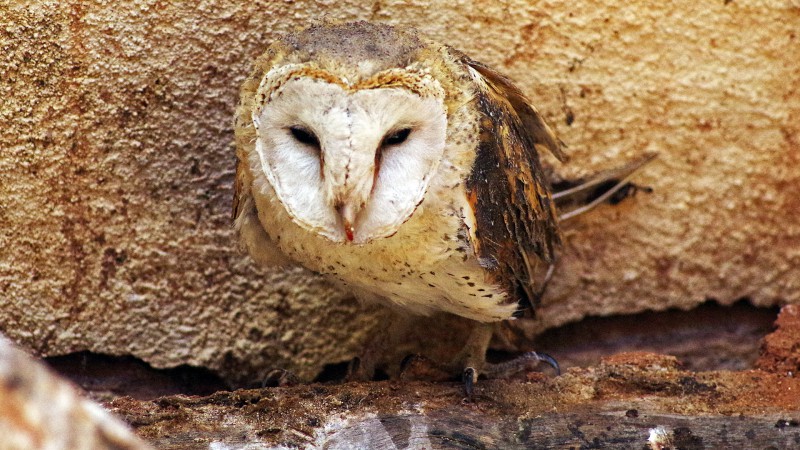 I believe this is an African Grass Owl. It was burned when two boys tried to force it from a tree by putting the tree on fire! It is now slowly recovering at REST.
Today REST is in urgent need for funds to relocate as soon as possible. To help save REST you can click here! I have…