Being at Skansen we had a golden opportunity to fresh up the acquaintance with the Swedish fauna. Among other things, Skansen is also a  zoo, showing Scandinavian animals.
We saw this huge Pig outside an old south-Swedish farm.
The Wolverine is a ferocious and strong carnivore that you only find in the northern part of the northern hemisphere.
We could at first not find any Wolf but there was one hiding. The Wolf is found all over Sweden.
The European Bison (Wisent) is not living wild in Sweden any more but used to be common in the south of Sweden a thousand years ago.
The Wild Boar became extinct in Sweden in the 18th century but was re-introduced and in 1987 a parliament decision put the Wild Boar back in its place as a natural part of the Swedish Fauna. It is today common in the south of Sweden.
The Eurasian Lynx is most common in the north but can be found all over Sweden.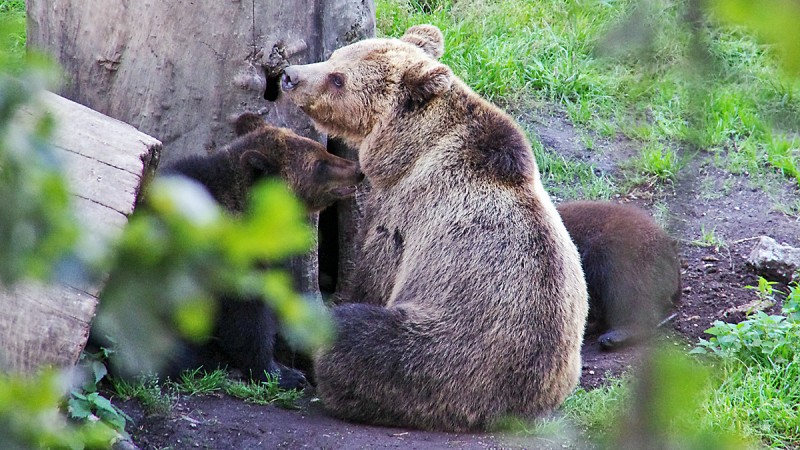 The Brown Bear can be found in all of Sweden with the exception of the southernmost parts.
We spent some time looking at the cubs playing.
The Great Grey Owl is a very large owl found in the most northern parts of Sweden.
The Red Squirrel is a favourite with many and can be found in forests in the whole of Sweden.
The Elk is the largest land mammal in Sweden. They are common all over Sweden and every year  50 000 of them are shot in the yearly elk hunt.
A cow elk with her calf.
The seals are found along all the coast of Sweden.
And of course we saw an example of this very child-friendly Giant Grass Snake…