On our first evening we were offered a short drive and of course we wanted to start exploring the area.
We headed east with our guide and driver; Gert…
…passed this poor Akacia tree that was ripped apart by an Elephant…
…and then stopped to watch this "Welwitschia mirabilis". Above is a female plant with red cones …
…and this is a male plant. The Welwitschia plant can be more than 2000 years old and it is endemic to an area from southern Angola in the north down to the Kuiseb river of Namibia in the south. It is only found in the extremely arid areas up to 100 km from the coast. 
The bush above may not look like much but it is very important to the eco-system here. As wind blows seed over the surface of land this bush catches it and provides important storage of food for small animals. It is called "the Namibian Star"…
…because of these very small but beautiful flowers.
We continued into the Hoanib river bed…
…where these huge tree trunks tell the story of a recent event. Only a few weeks before our visit (late January) the river came down in full flood carrying tree trunks like this.
Low sun and and a pair of giraffes.
Beautiful and always…
…with a keen interest of people watching.
This is a good time to stop…
…for a sundowner before returning to camp…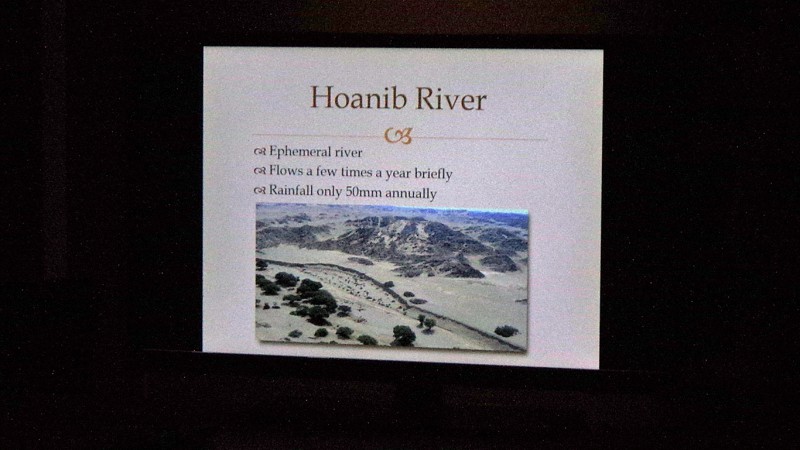 …where the camp manager Clement told us about the geological wonders that once created this place and then…
…world famous researcher Philip Stander told us about the Desert Lion Conservation Project he started in 1998 and which is still running.
It was time to go to bed after a fantastic day that started in Omaruru and ended in the desert next to Hoanib River.