I have some more pictures from F5 that I would like to share…
F5 Ljungbyhed was the home of Swedish exhibition Team 60. This was a team that used six of the flying instructors and six of the aircraft from Swedish Air Force flying school. In other words, a flying student could have his lessons in a Team 60 machine and with a Team 60 pilot as instructor. One of the advantages of my profession – free airshows included! The Team 60 were a great team and in fact, they still are… Some Team 60 pictures from 1985:
In 1986 F5 celebrated 60 years as the Air Force flying school with a big airshow. A few pictures from that great day:
A Tiger Moth with the owner – Pär Cederquist – in the cockpit. Another one of the owners was my father who is here talking to the pilot.
The great mixed SAAB team. Lead by a SAAB 105 there is a SAAB 37 Viggen on the left side, a SAAB 32 Lansen on the right and last but not least the SAAB 35 Draken.
Of course the Team 60 was there.
With enough aircraft you can paint the sky. "F5 – 60 years"
From Great Britain came this guest, a Spitfire beautifully flown.
And…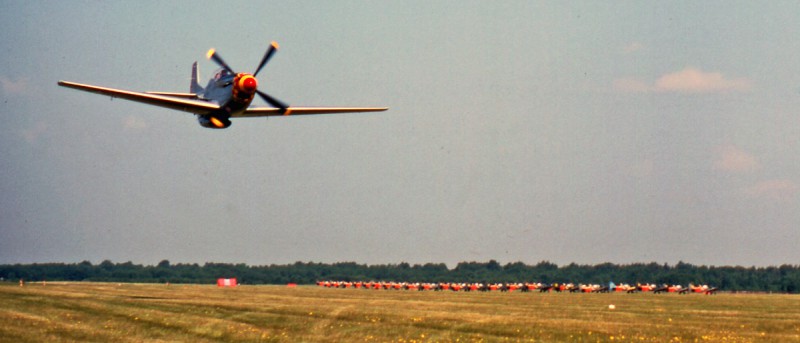 …very late that day this beautiful bird arrived. With this nice mixture of different aircraft on an airport you have to try and arrange something special:

I hope you liked the show…