After my flight over the Kuiseb it was time for us to leave for Windhoek. We decided to go south towards Solitaire and then turn left on D1275 to climb the "Spreetshoogte Pass" towards Windhoek.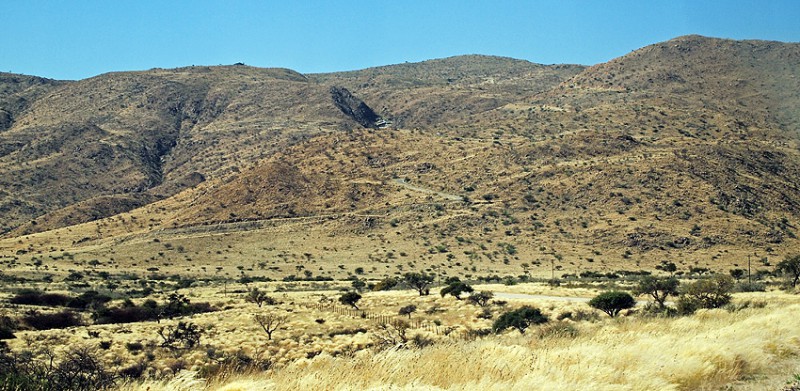 Before the second World War here was a farm called Ubib, with a foreman called Nicolaas Andries Rymert Spreeth. His view from the farm was something like the one you see above but then there was no road…
Provisions that he needed arrived by bus on the top of the mountain. To get there he had to lead his donkeys on zebra paths all the way up. The alternative was the Remhoogte Pass requiring a detour that took days. So Spreeth decided to build his own pass. On his donkey walks he marked the route with white stones.
Spreeth was no ingeneer but he was determined and he had a vision. During the war years he used dynamite and manual work to build a road up the steep walls of the mountain.
Today the Spreetshoogte Pass is one of the steepest passes in Namibia . At parts it climbs at a gradient of 1:4,5 to 1:6. It makes it a tough road to go upwards and a dangerous one to go downwards.
The view from the top is unrivaled as you look out over the Namib Desert and the dramatic landscape that stills shows that this was where present Africa and South America once separated some 125 million years ago.

(Click on the picture to see it in full scale)
The view is absolutely breath-taking. Just imagine having a house here…
Thanks Mr Spreeth for that determination and hard work. It is highly appreciated by many…