Before Christmas i spent three months investigating 53 ATS-related incidents. After Christmas I used these reports to write a "Systemic Analysis of the Safety Performance of ATS in Namibia".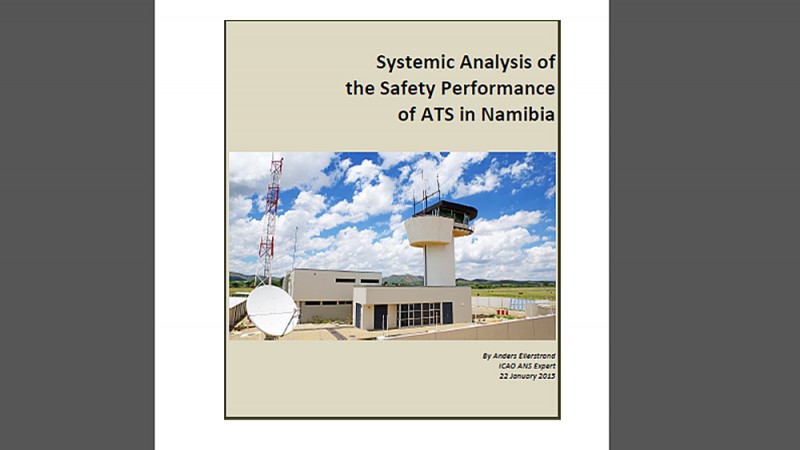 This report was handed over to the Director and Deputy Director AAN in January. It contains the summary results from incident investigations, an analysis on why these incidents occurred, conclusions and recommendations for corrective or mitigating actions. There is a need to improve the Safety Performance of ATS and I hope my report will be used in that work.
In July last year I attended my first "Inter Operator Safety Meeting" in the Westair board room on Eros airport.
The IOSM is a good forum for air operators to meet and discuss safety. It enables the transfer of experiences and ideas between all air operators in Namibia. I have attended four of these meetings with attendance from small and large operators, from ICAO/DCA and from ATS. My final attendance was a week ago. I and Adrian introduced the discussion cards on Safety Culture (developed by Eurocontrol) and all meetings now start with a discussion based on one of these cards.
One result of the incident investigations I made last year is the conclusion that a lot of the safety events occur near Eros airport. The former ICAO ATC team tried to correct this and an activity list was set up in 2012. All tasks assigned to the ICAO ATC team were finalised; geographical points were selected, routes were suggested and test-flown. A new CTR was designed. After this nothing happened for a long time but the Eros Project restarted at the end of last year.
To assist this important work I am now focusing on this work during my last weeks in Namibia. One of the first actions is the introduction of a system to book "training slots" at Eros and Hosea Kutako to reduce the risk of overload for the controllers. I have developed a form and there is now consultation done with the flying schools.
For the next action I have drafted Visual Approach Charts for Eros and Hosea Kutako airports…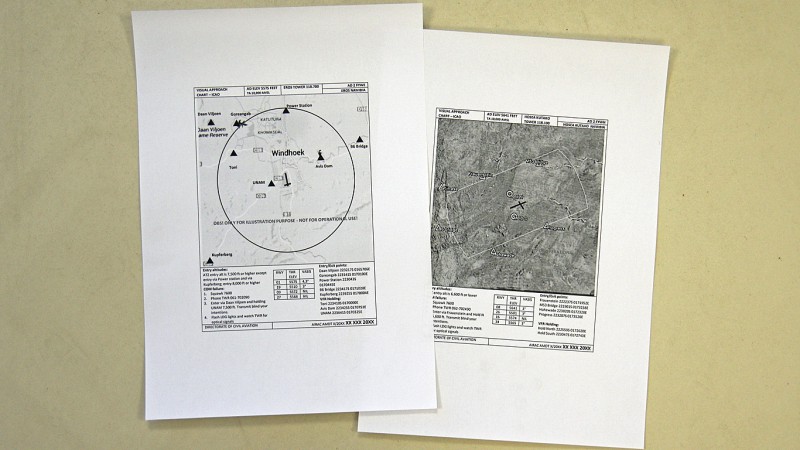 …and procedures to be implemented in the Station Standing Instruction Manuals. The intention is to reduce the number of conflict points in the vicinity of Eros airport by a structure of specified routes and altitudes.
We will try to test these procedures in the simulator and I hope it will be possible to implement these procedures for the benefit of the safety of pilots and passengers flying to and from Eros.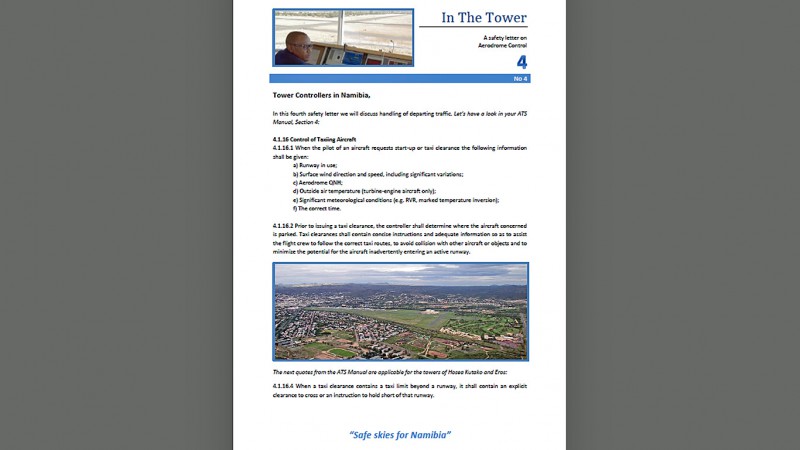 To make sure all controllers have a consistent view I have developed a series of "Safety letters" on aerodrome control. The two first are actually sent out to the controllers!